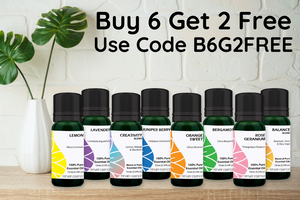 Exclusive Offer
Use code 'B6G2FREE' to Get Discount
Stock up on your favourite and must have essential oils with our buy 6 get 2 free offer.
For ease - either add products to your basket via 'Quick View' if on desktop or once added to cart, click the back button to return to this page - note that all 10ml Essential Oil bottles and Blends are included so can be added from any page on the site as long as you use the code: B6G2FREE
How to get the offer
This offer is valid for all products on this page.
All you need to do is add any 8 products from this page to your basket, enter the code "B6G2FREE" during checkout and of the 8 oils you have chosen, the cheapest 2 bottles will be free.
You can also use this for multiples of 8, so if you add 16 bottles, then 4 of them will be free, add 24 bottles then 6 of them will be free etc...
Once added, you can also brose any other products on our website and add them as normal.
You will still get free postage when your basket comes to £25 but can not combine this with any other voucher codes or offers (includes items reduced in price)