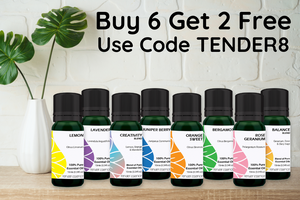 Browse All Our
Essential Oils
Stock up on your favourite and must have essential oils
Looking for something natural and pure to help you relax or invigorate your senses? Essential oils are perfect for that! Just add a few drops to your diffuser or use them in an aromatherapy massage, and you'll be enjoying the wonderful scents of nature in no time.

These concentrated oils are made from pure plant extracts, so they pack a real punch when it comes to fragrance. And because they're natural, they're also gentle and suited to specific needs or issues. So whether you're looking to relax after a long day or want to perk up your spirits, there's an essential oil that's perfect for you.

Why not try diffusing a few drops of lavender oil before bedtime for a soothing and calming effect? Or if you need an energy boost, try lemon or grapefruit oil. There are endless possibilities when it comes to essential oils, so why not explore them today? You'll be glad you did!