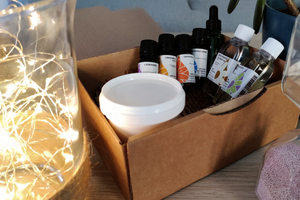 Something new this way comes
Subscription Boxes
Sign up below to be kept informed about our brand new monthly essential oil boxes.
We promise to make it worth your while!
Put me on the priority notification list
We will keep you informed about the brand new monthly subscription boxes and give you priority access before anyone else when we launch it.
You'll receive a special additional gift with your first box and a great discount.
Earn 5 Points Per £1
Once singed up you'll earn 5 points for each £1 spent, each point is worth 1p if converted to a money off coupon to spend on our products.
50 Points Free
When you register with us you'll receive 50 points to get you started, just for registering.
Earn Bonus Points
You'll have the chance to get bonus points by following us on social media, earn 100 points each when you follow us on Instagram & Facebook
Birthday Bonus
When you register, let us know when your birthday is and we'll give you a small bonus gift of 100 points.
£1 Off coupon
Get £1 off your order with 100 points, no minimum purchase.
£5 off coupon
Get £5 off your order with 500 points, no minimum purchase.
£10 off coupon
Get £10 off your order with 1000 points, no minimum purchase.
15% Off Coupon
Exchange 1500 Points for a 15% Off Coupon - No minimum purchase
25% off coupon
Exchange 2500 Points for a 25% Off Coupon - No minimum purchase
35% off coupon
Exchange 5000 Points for a 35% Off Coupon - No minimum purchase